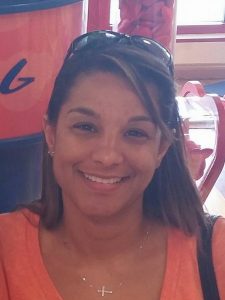 Sharon grew up in a small town called Union, Michigan. Before leaving Michigan, in 1996, she worked as a CNA, in a nursing home and a hospital. She loved caring for the patients and learning new things from the nurses and doctors. She has also lived in Georgia, Virginia, and North Carolina.
Sharon has 3 children Emili (born in 1993), Kayson (born in 1999), and a step-son Cody. When both of her children were in school, she decided to go back to work. Sharon became a substitute for the Virginia Beach Public Schools for a year before being offered a job as a Kindergarten Assistant. She enjoyed working with the children, watching them learn, and become more independent.  Sharon also has a wonderful Golden Retriever named Jake. In 2012,  Sharon married John and soon after they moved to Gibsonville, North Carolina.  They moved to Wilmington, North Carolina; in 2015. She loves the weather here the most, but is happier to be living closer to the beach,hiking, and biking trails. Sharon enjoys  spending time with her husband doing outdoors activities, loves to read, watch movies, and sporting events on T.V.
Sharon Taylor is currently a Certified Clinical Chiropractor Assistant  with ChiroCynergy, in Leland, North Carolina.